labrys, études féministes/ estudos feministas
juillet / décembre 2013 -julho / dezembro 2013
Heroine of the Arctic: Louise Arner Boyd, Arctic Explorer
Durlynn Anema
Abstract
Louise Arner Boyd, heiress to millions of dollars, decided the best use of her money was to add to the world's scientific knowledge of Arctic regions. Her focus was the coast of Eastern Greenland with four scientific expeditions sponsored by the American Geographic Society in the 1930's. In addition to paying for these expeditions, Boyd was the official photographer. Her thousands of photographs later were used in two publications by the American Geographic Society and today are valued for accurate portrayal of the East Greenland coast during the1930's prior to climate change. Boyd also used photogrammetry, which uses both photography and surveying to create reconnaissance-scale maps. Two geographic areas in East Greenland were named for her by the Danish government -- "Miss Boyd Land," or in Danish Weisboylund, and Louise Glacier at the head of Ice Fiord. During World War II she became the Arctic expert for the United States government because few Americans had explored the Arctic, with the exception of Boyd. Her final Arctic adventure was to the North Pole in 1958, but this time she went by air, hiring a plane and crew to fly around the Pole to complete her Arctic dreams.
Key Words: Scientific knowledge of Arctic regions, Eastern Greenland, American Geographic Society, photogrammentry, Miss Boyd Land, North Pole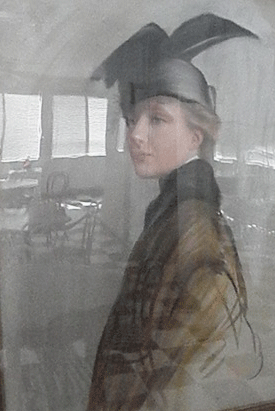 Louise Arner Boyd was born into a family with millions of dollars. While she enjoyed the luxuries money gave her, she decided the best use of her money was to add to the world's scientific knowledge of Arctic regions.
Louise's young years included enjoying the outdoors with her brothers, studying with competent governesses and tutors, listening to stories of adventure, and enjoying the luxuries wealth can provide. Family togetherness was the most important element of this life. Hers was a family of five -- father John, mother Louise and older brothers Seth and John, Jr. Born on September 16, 1887 in San Rafael, California, she may have been the youngest, but was determined to keep up with her older brothers.
Louise, her brothers and parents divided their time between homes in San Rafael and San Francisco, and a stock farm east of San Francisco Bay. They rode horses over the grassy hillsides, studied under private tutors, attended theatrical performances in San Francisco, and traveled abroad. Their greatest enjoyment was their active life together -- swimming, shooting rifles, wrestling, and hiking throughout all properties -- always ready for adventure.
While she had the freedom to be outdoors with her brothers, she also learned the proprieties of a young girl growing up in elite Victorian society. Whatever the role she was to play, she learned it to perfection. Perfection became a part of her personality so she could easily fit into whatever role was demanded of her, demonstrating this duality throughout her busy life.
Louise loved learning about new things, especially enjoying history and geography. Years later she often said she was "a born geographer." ( 1981."Marin Woman..) Tall for her age, and thin and agile, Louise felt the same size as her older brothers, with whom she competed whenever possible.
"I was a tomboy," Louise often said in later life. ( idem)
Then tragedy struck the Boyd household. Louise's brothers died within nine months of each other when she was fourteen. Louise became the heir, with her father now training her in his investment business. She became president of the company at twenty-two years old. While her friends socialized and married, Louise cared for her parents until they died when she was thirty-two years old. At that point she wondered, "What will I do now?" It was an odd feeling -- to be so alone. She once told an interviewer, "I'm a freak. I haven't a living soul in the world." ( Dorrance, John, 1984)
Even at thirty-two-years-old, her wealth and status in the community as an heiress made her a target for eligible males and the required married life of genteel society. This path was not for Louise. She had an independent and questing nature that did not wish to be confined in the pleasant but limiting society of San Rafael and San Francisco. The blood of her adventurous family ran deep.
Louise remembered her childhood dreams of adventure. Now she realized she had no one to answer to except herself and those dreams, and she knew she was ready for adventure. She knew two things about herself. She wanted to create some sort of career for herself because she could not bear being idle, and she wanted to travel. Travel became reality quickly. For two years she journeyed all over Europe and beyond.
After each trip, she prepared a complete collection of her hundreds of photographs, labeling each one. "When I do anything, I like to do it thoroughly," she said. ((New York World Telegram, 1924: May 12.) This thoroughness meant a continuation of photographic study back in the United States, first, with experts from Northern California, then with Isaiah Bowman, Director of the American Geographical Society and one of the foremost photographers and teachers in the world.
By 1924, Louise was bored with traveling to the usual European destinations. She decidedto go to Spitsbergen, Norway, a small archipelago lying in the Arctic Sea between the coasts of Norway and East Greenland. No tourist visited spots like this, which intrigued her. Later, she told a reporter she had chosen this unusual destination because of her fondness "of geography from earliest childhood. Everything from the North fascinated me." (." ( Dorrance, John, 1984) Louise selected a small Norwegian tourist boat. As Louise stared at the stark blue pack ice northwest of Spitsbergen, she became entranced by its color and vastness. Later she said, " I remember turning to the captain, saying, 'Some day I want to be way in there looking out, instead of looking in.'" (idem) This "so-called uneventful trip" became the turning point of her life. Louise finally had found her calling, combining career and travel.
She returned home to plan her own Arctic expedition. In her usual thorough manner, she listed what needed to be done. First on the list was consulting with Francis Gisbert, of England and one of the best experts on polar regions in the world. She wrote to him, asking him to teach her. He agreed and traveled to California. "I told him to teach me everything he could about the polar regions," she commented later. "He gave me my best training." (idem) As she learned, she began to plan her expedition, for which she would pay with her own money.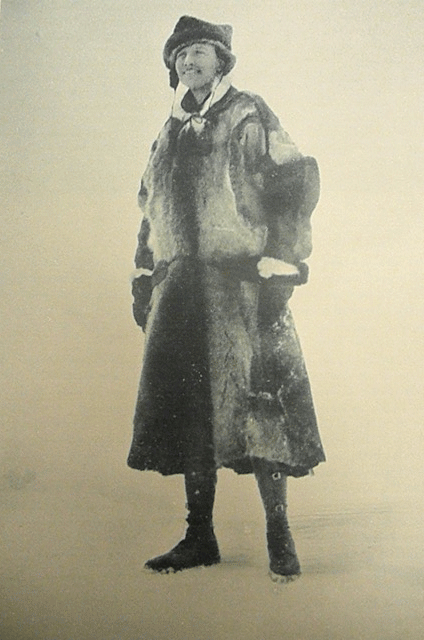 The voyage had two purposes -- Louise would take extensive photographs and everyone would be able to hunt. Fascinated with the blue ice, tall icebergs, and glaciers, she wanted to capture their beauty with her camera. On July 24, 1926 the ship sailed into a land of deep blue water, ice, and snow. The ship spent weeks grinding through twelve-foot ice floes, before arriving at Franz Josef Land on the eastern coast of Greenland. Those hard days were worth it for Louise when she was able to set foot on that Land -- to walk in an area seldom visited.
Louise spent several days taking numerous photographs -- all with bulky view cameras. She shot glaciers at several different angles, topography during all times of the day, mist shrouded terrain, and animals inhabiting the land and sea -- polar bears, walruses, seals, and Arctic birds She also collected botanical specimens for Alice Eastwood, botanical curator of the California Academy of Sciences. When she returned the Arctic specimens to Alice, she was delighted to learn she had found several new species which had not been reported previously.
During this first expedition she began to see the majesty of the unexplored icy wilderness and became interested in the lives of the native Eskimo. Louise was changing from tourist to explorer, recording the lifestyle of the native people through photography, learning a great deal about northern waters and the adjacent land mass. The expedition deeply affected her, later writing: "I had the feeling of regret that isolation combined with danger made this beauty inaccessible and known to so few." ( , San Rafael Independent, 1939: January 6)
Louise had a new purpose for her voyages in 1928 -- a scientific expedition. She was determined to add to the world's scientific knowledge through use of her money and to penetrate the east coast of Greenland with the largest lacework of fiords known in the world.
Louise carefully planned every detail of her new expedition, from provisions to charting the journey's course. Once again she chartered the Hobby because of her confidence in Captain Olsen. The three scientists hired, would map the region, find botany samples, and determine ocean depths.
When they arrived in Aeslund, Norway momentous and tragic news greeted them. An Italian explorer, General Umberto Nobile, and his crew had crashed their dirigible, the Norge, somewhere in the Arctic. The Hobby had just returned from a failed rescue search. Ronald Amundsen, the famous Arctic and Antarctic explorer, had already set out in a plane to search for the lost men. Now he and his crew were also missing.
As these events swirled around her, Louise decided upon her course of action.. She announced the Hobby would be used by the Norwegian government for the search, and she would forgo her planned expedition. "How could I go on a pleasure trip when those twenty-two lizes were at stake?" she asked. ( New York Herald, 1928: August 9)
Because she had chartered the Hobby, and would be paying the expenses of the search mission, Louise and her friends became part of the rescue effort. The Hobby was especially suited for the rescue because it was one of the few ships equipped to carry planes. She put the ship at the command of Norway, but insisted upon also flying the American flag. This change of plans was a completely rational decision to Louise. Her original expedition goal was insignificant, in her estimation, compared to rescuing one of the foremost Arctic explorers in history.
Louise was determined to search as long as possible, although by mid-September bad weather often delayed the expedition, encountering violent storms. Finally, she realized it was impossible to persist. A longer stay could be very dangerous. She and the crew had set out on July 3, 1928 and returned to Tromsoe, Norway on September 22. The ten thousand mile search had traversed the coast of Spitzbergen and crisscrossed the Greenland Sea. The futility of their search upset Louise. But she took pride that her expedition had been a recognized unit of the Norwegian Amundsen Rescue Expedition.
When Louise returned to Tromsoe, Norway, imagine her surprise to learn that she was to receive the Chevalier cross of a Knight of St. Olaf from King Haakoon of Norway. Louise had put her photography skills to good advantage during the voyage. She took several thousand photographs and almost twenty thousand feet of motion picture film. The explorers she met repeatedly told her a competent photographer was necessary for proper mapping of this region. She was thrilled. She had the time and money to equip future exploration for scientific knowledge, plus the expertise to be the photographer.
Louise no longer was a novice in polar seas. She understood navigation conditions and the appearance and behavior of different forms of marine ice. The challenge of approaching land barred by wide belts of ice excited her. If her next expedition could cross this ice, she would gain access to new lands -- and photographs never before seen.
Louise began planning her 1931 expedition immediately, deciding to visit the fiords of Franz Josef and King Oscar on the East Greenland coast. This trip was a preliminary survey for a comprehensive expedition in 1933. She understood the necessity of small excursions to explore the extensive fiord area of East Greenland. The region between the 70th and 74th parallels has the largest collection of fiords extending from the coast in the world.
Her expedition started on July 1 as Louise had planned. By July 8 they arrived at Jan Mayen Island and then continued toward Greenland. The expedition visited every fiord and sound in the region of Franz Josef and King Oscar Fiords. They also embarked on numerous shore trips. Louise's education from Isaiah Bowman proved worthwhile. He also had introduced her to photogrammetry, which uses both photography and surveying to create reconnaissance-scale maps. In the days before aerial photography was common, photogrammetry involved photographing a given site from several positions, a process that yields the equivalent of a three-dimensional view.

Louise took several thousand photographs, illustrating the glaciers, sea ice, fine scenery, animal life, and flora. Her photos of the area were so good that Walter A. Wood, a surveyor from the New York Geographic Society, was able to map the region to scale without field measurements. The American Geographical Society constructed a large-scale topographic map from the same photographs.
Louise and the others wore heavy coats and hip boots to protect themselves from the big swells that washed over the sides of the ship. She already was accustomed to practical clothing after her previous trips. When she hiked on shore, Louise wore ski breeches and ski boots because they were not as heavy as field boots. She also wore sweaters instead of flannel shirts because they were easier to take off or put on when the temperatures changed.
The heavy pack ice along the coast prevented the ship from moving into several fiords. After two attempts, however, the ship did attain the inner reaches of Ice Fiord. To the best of Louise's knowledge, this region had never been visited. She described her findings in detail, noting that current topography maps might not be accurate because observations made by previous expeditions were from distant peaks. Her photographs later proved this to be true. Inside Ice Fiord, Louise discovered the De Geer Glacier, because the Veslekari had entered the fiord from the north. Prior to this, only one glacier, the Jaette, had been known to end in Ice Fiord.
Additional activities were varied but important. Native plants were collected for Alice Eastwood. Increased contact with the Eskimo population was established for future expeditions. Topography was recorded and charts made with soundings of the numerous inlets. The short season accelerated every facet of nature, from the enormous clouds of insects that rose out of the ground everywhere, to the sudden profusion of bird life that appeared. The expedition was a race against the ice pack closing for the long bitter Arctic winter.
To acknowledge her impressive discoveries, the Danish government named the area "Miss Boyd Land," or in Danish Weisboydlund. Miss Boyd Land, located in Ice Fiord, includes the land lying between the De Geer Glacier and the Jaette Glacier. Louise knew nothing about this honor until 1932. She received a letter from Dr. Lauge Koch that contained a published map with the new designation, Louise glacier, at the head of Ice Fiord. The glacier is fed by the ice field of Miss Boyd Land.
Louise had moved from society woman to explorer and never looked back. Her insistence upon accuracy at all times as well as paying attention to the slightest detail impressed the American Geographic Society who always was extremely careful in any sponsorship. She had demonstrated she was not a dilettante meddling in the scientific world but a person who wanted to gain knowledge. She may not have any college and university degrees but her persistence and willingness to learn gave her respect from the scientific community.
Reporters designated Louise as "the ice woman," referring both to her explorations and her demeanor. Louise was accustomed to commanding those around her, with her strident voice leaving no one in doubt of her abilities AND authority. A tall, graceful woman with slightly graying hair, she used these attributes to her advantage.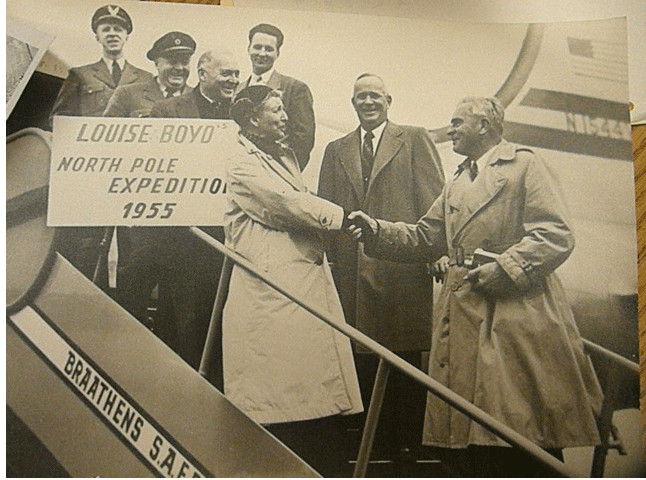 In 1933, Louise was forty-six years old and ready for the biggest Arctic expedition of her career. This was a purely scientific enterprise that would be well-organized, well-staffed andwell-equipped, because Louise insisted on these elements. It was sponsored by the American Geographical Society. She had met Isaiah Bowman and his staff during her return trip in 1931.
Their conversations demonstrated to Louise that any explorative study was best done and would be more thorough by integrating various sciences into a single program. This expedition and future ones to East Greenland would be guided by this interdisciplinary structure. This began a long, mutually profitable association with the American Geographical Society (AGS), who also helped staff and program the rest of her expeditions and publish her three books.
Louise felt like a professional explorer and wanted to find the best equipment available for her expedition. She believed explorers and scientists should be supplied with "the most precise and practical instruments that modern times have developed." All instruments, including her own cameras, were the finest money could buy.
Because Louise was financing this expedition, she made all final decisions, including the agreements with the ship owners, the crew and the scientists. She was aware of her responsibility to get the expedition through all perils, and no matter the temptation of staying "a few extra days" she would have to command a return of the Veleskari toward home at the appropriate time.
"A slight error of judgment may mean another ship trapped in the closing ice," she would later write. (Boyd, Louise Arner. 1935) The American Geographical Society helped Louise gather a prestigious group of scientists for her new expedition. Once again she chartered the Veslekari, pleased to discover her old friend Captain Johan Olsen was now its Captain.
The expedition had two purposes: (1) to make soundings off the east coast of Greenland to determine whether Greenland was at one time a part of the European Continent. This was the reason for buying the new echo-chamber. (2) To chart the Northeast Coast of Greenland, studying the glacial marginal features in the King Oscar Fjord and Franz Josef Fjord region.
The expedition sailed from Alesund, Norway, on June 28, traveling northward five hundred fifty miles along the Norwegian coast. When the scientists first tested the sonic depth finder, and discovered it could go down to 2200 meters (1200 fathoms), Louise could hardly contain her pleasure. As the instrument moved along the ocean floor, she said they felt "as if we were in a ship with a glass bottom as we watched the instrument tracing the profile of the continental shelf and slope." ( Boyd, Louise Arner, 1935)
On July 4, the ship left the coast of Norway and headed westward into the open sea. This was Louise's third Fourth of July in the Arctic. She and her companions celebrated by flying the American flag and having a sumptuous meal that included caviar -- or as sumptuous as was possible above a rolling sea.
The ship sailed towards its first destination, Jan Mayen Island, that lies midway between Norway and the east coast of Greenland. The majority of the time the island is cloaked in fog and heavy clouds. But on July 8, Louise and her crew saw a clear sky and Mt. Beerenberg, an extinct 7500 foot volcano.
When the Veslekari arrived at the pack ice thirty-six hours after leaving Jan Mayen island, Louise and Captain Olsen were pleased to find the sea quite open. They were able to sail through in nineteen-and-a-half-hours. During the trip, the explorers spotted several polar bears and seals, which they had not seen in 1931. The Greenland coast was ice-free, with open water extending several miles to sea.
The party began work on accomplishing its main purpose: to explore extensively the fiord region of East Greenland by inlets that ran back as far as one hundred twenty miles. When they anchored at Myggbukra on the Hold-with-Hope Peninsula July 13 Louise wanted to explore and photograph. As she walked and shot pictures, she quickly discovered why it was named Myggbukta, and why the Eskimos left the region. The name means "Mosquito Bay," and she found lots of them. While taking photographs of Eskimo ruins, Louise placed her camera on a tripod. Although she knew her lens worked correctly, she was unable to obtain a clear focus because mosquitoes covered the lens. Only by beating them off could Louise photograph her objective.
By July 22, ice conditions had changed and the ship was able to enter Franz Josef Fiord. Icebergs raised cleanly out of the blue water. The sky was clear. Slowly, they journeyed up the narrowing fiord, marveling at the stupendous scenery which only became more beautiful as the fiord narrowed. Huge icebergs intermingled with so many smaller bergs meant they could not reach the fiord head. Captain Olsen chose another route and easily reached the fiord's inner end.
As the ship sailed further, Louise was not prepared for the majestic beauty at the inner end of Franz Josef Fiord. Some of the highest mountains in this part of Greenland dot the landscape. She and the scientists performed the majority of their work at this inlet.
During the next four weeks, the expedition camped inland, photographing, surveying, and taking soundings. This was a major excursion by foot -- no pack animals, wagons, sleds. All the gear and scientific equipment must be carried. Louise hiked over much of the region, taking pictures as she went. She was never afraid to hike where the men went and often walked ahead of them. Her strength amazed her male companions. Yet, she also remained feminine, powdering her nose before she ventured out on deck in the morning.
Wind and sand were Louise's most persistent enemies. The sand was so fine in the valleys that it permeated everything, including her photographic equipment. Regardless of all possible care, the lenses as well as the innermost parts of the cameras often fell victim to the fine, gritty sand. Once, even though the tripod was well braced with stones, the wind hurled her large camera down a bank near the Mystery Lakes, an ice free area between where the ship lay and Peterman Peak on shore.
On August 23, the group finished their work and readied to leave. It was none too soon. A chill was always in the air and the nights were cold. Louise noted that although it was sunny, the weather was noticeably cooler than in 1931, with fog so thick they waited two days before they could move. On August 30 as they sailed across from Kjerulf to Dickson Fiord the day was sunless, raw and cold, and a high fog obliterated their view of all mountain summits.
Four days later, as the ship moved slowly at no more than a few knots, tragedy struck. The Veslekari hit ground at half past ten in the morning of September 3. Quickly, Captain Olsen reversed the engines. At high tide, the ship had stuck and settled on sticky sediment. Louise and Captain Olsen knew all the other ships had left the east coast of Greenland. They must rely on their own ingenuity to get afloat, which was a challenge of immense proportions.
As the tide again went out, the ship settled a little more. The captain ordered the removal of some cargo, hoping that between the lighter cargo and incoming tide the ship might become free. But the tide came and went -- leaving them fast. They removed the coal. By now the ship had been lightened to fifty-four and a half tons. It seemed there was nothing else they could do.
Captain Olsen spotted an iceberg about 720 feet away. He estimated it at twenty feet long, ten feet wide and six feet high. He ordered a cable lassoed around it and connected with the ship's winch. Then the motor dory shoved the berg as the winch pulled on the cable. Theiceberg was grounded aft of the ship. They waited for the next tide.
By now it was September 4. It was imperative they move before the polar ice held them firm. With high tide and the engines full speed astern, Captain Olsen made another attempt. The winch pulled on the cable connected to the iceberg. The engines roared. Suddenly, the Veslekari came afloat once more -- undamaged. Louise later said, "Here was a case when an iceberg was a friend!" ((Boyd, Louise Arner., 1935)
They anchored, reloaded their petrol barrels and boats, and had enough coal left for the homeward journey. Louise gave full credit to the seamanship of Captain Olsen and his crew for saving them. If they had not become free, they would have been stuck in the swiftly arriving ice all winter.
On September 16, the Veslekari docked at Alesund, Norway. The expedition was officially terminated -- eighty days in voyage, with sixty days spent at East Greenland. Louise was pleased by the trip. especially her photogrammetrical surveys, carried out in five different localities. as well as her success at using new surveying methods in the field.
Louise's 1931 and 1933 expeditions were only a beginning. She had more to accomplish in Greenland in the years ahead.
The Fiord Region of East Greenland, Publication Number 18 was published by the American Geographical Society in 1935. Louise dedicated the book to her mother and father. J. Harlen Bretz, O. M. Miller, Walter A. Wood, and William B. Drew, (scientists who accompanied her on one or more of the expeditions) also contributed to the book.
Two additional chapters were written; one from the echo sounding information and one on historic exploration prior to Louise's expedition. Louise selected three hundred fifty photographs from the thousands she took and wrote the introductory narrative.
Her work in East Greenland helped develop several maps of the region. Three large-scale maps of the photogrammetrical surveys of Louise Glacier in Miss Boyd Land, Arch Glacier, and Moraineless Glacier in Gregory Valley were produced. A map of Gregory Valley also was made because that area had not been explored previously. Each sounding map and a bathymetric map of the floor of the Greenland Sea completed these works.
In 1934, Louise was honored when Dr. Isaiah Bowman encouraged her appointment as a delegate to the International Geographical Congress in Warsaw, Poland, in August. She represented the United States government and the American Geographical Society. To take full-advantage of her opportunity to do photographic work in Poland, she took her special camera, a Folmer Graflex Model "O", and sent her Packard touring car and her chauffeur ahead of her. Before and after the Congress she traveled over much of the Polish territory, taking over two thousand photographs.
Her book Polish Countryside was published in 1937 by the American Geographical Society, and is considered one of the best examples of life in rural Poland in the 1930's. She illustrated it with almost five hundred black and white photographs. After spending time away from Arctic exploration, Louise was eager to plan her 1937 and 1938 expeditions jointly. Having laid the groundwork through previous voyages, she now knew the eastern coast of Greenland as well as any Arctic explorer alive.
The difference between the unified 1937 and 1938 expeditions and previous ones was a journey northward from the King Oscar and Franz Josef Fiord area. Louise would travel farther north from the King Oscar and Franz Josef Fiord areas into territory unknown to her and few other explorers. Her success depended on weather and ice conditions, so she allowed for flexibility. If adverse weather occurred, the expedition could always return to the King Oscar and Franz Josef Fiord region and continue projects there. The 1937 expedition would prepare Louise for the challenge of 1938 -- the northernmost expedition to date.
Always known for her thorough planning, Louise now was even more intense. She labeled the expedition: THE LOUISE A. BOYD EXPEDITION TO EAST GREENLAND 1937 and again chose the Veslekari under the command Captain Johan Olsen. After their previous trip she had great confidence in him, and the feeling was mutual. Although she was in charge, he knew she would defer many important decisions to him.
The Expedition was divided into two parts: (1) Oceanographic work and geomorphological and ecological studies of glacial marginal features in the Franz Josef region of East Greenland. (2) Soundings of particular interest to oceanography students because of long standing questions about whether or not there was a submarine ridge connecting Spitzbergen and Greenland.
While the 1937 voyage went further north than previous ones and obtained new scientific data, it encountered delays and trouble from the beginning. Louise had hoped to start from Alesund, Norway, on June 1. But the sonic depth finder failed. She decided bought a new one rather than waiting for it to be fixed. With delivery two weeks later, she sailed as planned,making arrangements to ship the depth finder north to their next port, Narvik.
The Veslekari left on June 4. Two weeks later, (June 16) the depth finder was at Narvik and installed. A trial run proved it satisfactory. They then went north to Tromso, Norway, to pick up the remaining expedition staff.
The delays meant they did not start across to Greenland until June 30. Heavy seas swept over the decks. The iron door of the galley had to remain closed to keep water from splashing onto the stove. Hip- length rubber boots were a necessity, not only on deck but in the mess room.
Finally, calm water appeared on July 6. A few days were spent at Jan Mayen Island, then they set out for the Greenland coast. Six days later heavy ice surrounded the ship. Their journey became so slow it took until July 25 to reach the Greenland coast. In late July, they arrived at Young Sound, where land exploration was possible. Although it was 8:30 p.m., expedition members went ashore as soon as the ship anchored because the sun did not set until almost 11 p.m., and rose again around 2 a.m. Often, the scientists worked fourteen hour days.
The next day, Louise and the hydrographer went by ship to the head of Tyroler Fiord. They hiked along the glaciers and valleys. The musk oxen in the valley did not run at the sight of human beings. Instead, their menacing looks let Louise know this was their territory and they did not welcome intrusion. She was especially careful when photographing knowing she had to be aware of a possible attack by a lone musk ox. (In herds they usually avoided humans.) Several times as she readied her tripod to photograph "over the hill would appear one of these wanderers. Seeing me and my crew he would charge upon us in a series of full-speed rushes." ( Boyd, Louise Arner, 1948.)
The scientific members worked until August 3. Louise helped the surveyor with the mapping, photographing from camera stations she selected. Each morning the scientists waded ashore from rowboats. Then they tramped across the gravel delta, forded streams, and climbed into the high terminal moraines over loose rocks and stones. After working hard each day, the return hike was along the same rough terrain. The men were impressed by Louise's hardiness, as she was able keep up with any of the men.
Each evening when the scientists returned to the ship, they went over the data they had collected, using an oil lamp for light. Louise set the pace for the men, saying later, "I'm reproached sometimes for wearing out the crew but they haven't suffered yet." (Jones, Mary MacCracken., 1939: June 12)
By mid-August, ice conditions prevented them from continuing farther north. Louise wasdisappointed, yet happy their exploration yielded so much information. They turned south to once again explore Franz Josef Fiord and its adjacent areas. Soon, ice and bad weatherthreatened the expedition. The drifting pack ice in the fiord indicated winter would set in earlier than usual.
On August 23, Captain Olsen ordered Louise and the expedition crew to finish their work that day. The weather was beautiful. The staff wondered at the haste, but boarded and by half past six they were ready to sail. Two days out they encountered first drifting ice, then thick, tight ice. Ten hours later, they had only gone three miles. As far as Captain Olsen could see from the crow's nest, heavy polar ice fields and floes blocked the coast. He moved the ship whenever he found the slightest opening, but it was in vain. On August 25, their worst fears were realized. The ship was pinched by the ice and tipped several degrees on her side. Captain Olsen ordered the crew to use dynamite, which broke the ice and righted the ship undamaged. By morning, the ice had slackened a little and they were able to make some progress. But at the end of two hours, they again were blocked by large ice floes that reached to the coast. Captain Olsen told Louise that sailing onward seemed impossible.
They discussed the situation with the staff and crew. The wireless station they had just visited told them there was drifting ice in King Oscar Fiord as far north as the east coast of their island, meaning there still was some open water. After examining all alternatives, they decided on a route over one hundred miles out of their way.
On August 26 it took eleven hours to push their way to open water at Sofia Sound, where they encountered only some drifting ice. But this was not the end of their problems. At King Oscar Fiord they found heavy ice, with no open leads through which they could move. It was a struggle against time because of two dangers: The ice might close in so tightly they could not get out that season. Or the ship might be beset in the heavy ice and crushed.
All hands were pressed into service -- scientific staff included. They manned the ice anchors, leaping from floe to floe with the heavy equipment and hammering the anchors into the ice, which gave the ship leverage for pulling and shoving. Captain Olsen commanded operations from the crow's nest. Hot coffee and food were on hand at all times in the crew's galley. Louise, scientists, and crew members were on deck all night.
The progress the next day was no less difficult. Late that afternoon, some light snow fell and fog developed. The floes began to diminish in size. By midnight they were through them to the open coast. It had been a long and desperate journey. As they left King Oscar Fiord, more heavy pack ice blocked the shore, extending out to sea for thirty-five miles. Fortunately, there was open water between the floes, so they could get out of the ice and sail for Norway on August 29. A shout went up in relief. Now they set their course of Spitsbergen, happy at last to be free.
After the 1937 voyage, Louise's reputation for hard work grew. Her devotion to detail had impressed both the scientists and the ship's crew, who saw not a wealthy woman indulging herself, but a sincere explorer. More than anything, they appreciated her willingness to do the same jobs any other crew member had to do.
With her usual perfection for detail, Louise started planning immediately for her 1938 voyage. By March 24, she had hired the Veslekari for THE LOUISE A. BOYD ARCTIC EXPEDITION 1938 starting in June through September 1938 and "for such extended period as agreed upon by the parties."
All members of the expedition were at the Aalesund, Norway port and the ship ready to sail on June 1, earlier than any previous trips. Then the echo sounding equipment failed on the trial run. Once again, they had to postpone their start until it was in working condition. On June 8, they sailed to test the echo sounder, which was fixed.
The expedition began on June 13. They arrived at Jan Mayen Island ahead of schedule, Which satisfied Louise that the delay had not hampered them. On July 14, the Veslekari started north. No large field of ice appeared until July 16. At this point, the ship had reached 81 degrees 30 minutes. They went northeast to Spitsbergen, planning to cross from there to Greenland but as they left Spitsbergen traveling west theyencountered thick fog fog. Finally, on July 25 the Greenland coast was sighted, exactly a year since their first landing in 1937. They were able to travel further north than at any previous time. She explored in the motor dory for two days -- July 27 and 28 -- fascinated with the almost vertical walls and colorful formations.
On July 31, Louise and Captain Olsen decided to move to the coast and sail as far north as possible. The next day, just when Captain Olsen thought all was well, tight ice engulfed them. Olsen managed to work the ship through it, going slowly and carefully with Louise watching every maneuver. Desperately, she wanted to proceed. By the time they reached the east coast of Shannon Island, they saw only small ice floes, with plenty of open water before them.
As they continued northward, they traveled waters rarely open for ships. They approached a strip of polar ice that rimmed the shore. It was much wider than what they had seen before, with no possibility of getting through it to land. Icebergs rose out of the ice and the land was covered with more snow. The one hundred twenty mile wide entrance to Skaer Fiord wascompletely blocked.
The Veslekari had entered the outer reaches of the navigable Arctic.
Further north, they passed heavy polar ice packed solid and unbroken as far as they could see, sailing between Cape Amelie and the west side of Ile de France, where ships had never traveled. They kept drifting in the ice through the night and early morning of August 3, hoping it would change. Louise wanted to continue northward. However, by the next morning, it was obvious they had gone as far north as they could go. They were at 77 degrees 48 minutes north latitude with the North Pole was only eight hundred miles away.
Captain Olsen anchored to a field of polar ice grounded and frozen to the shore. The ice was as high as the bow of the ship, fifteen feet above the water. Louise and the others climbed a ladder from the ship to the ice, then inched their way over the ice's rough surface to land. They crossed heaps of rock debris that had been pushed up where the ice field butted against the shore.
They had to flounder knee-deep through a wide strip of mud to get from the ice to dry land. The higher slopes of the island below the icecap were fairly hard-surfaced and vegetation grew sparsely in single plants and small clumps. To the best of Louise's knowledge, theirs was at that time the farthest north landing ever made on the east coast of Greenland. If they had only arrived one or two days earlier, she thought, they might have been able to go further north. Not only did the ice fields block their way, but the fields were already drifting south.
Captain Olsen, not wanting to risk getting caught in the southbound ice fields, asked Louise and the scientists to make their trip ashore a quick one. They granted his wish and were ready to sail by four o'clock in the afternoon.
On September 7, Louise sent a wireless dispatch to the New York Times. An article appeared on September 9 along with a map of the expeditions's route reading: "Miss Boyd may claim the credit of having gone farther north in a ship along the East Greenland shore than any other American and of having attained what is probably the second highest latitude ever reached by a vessel in these waters." (( Wright, John K. 1938: September 9)
The four expeditions planned and executed by Louise met her goals. She had accomplished what no woman and few men had. Her proudest moment was contributing to the world's knowledge about the Arctic. Now she was ready to settle down at home to assemble her photographs and journals into books for the American Geographical Society.
Louse was faced with infuriating news. When she took her 1938 expedition, she knew Europe was changing. After her 1938 journey, she left most of her equipment and supplies in Aalesund, Norway, anticipating another journey in the near future. But in 1940 Norway was invaded by Germany. She learned all her cameras, radios, sounding equipment, scientific equipment, canoes, and Arctic clothing had been impounded by German soldiers. Furious, she arranged a trip from New York to Oslo, the Norwegian capital.
As she sailed toward Norway, Louise knew she would be safe from capture because the United States was not at war with Germany. Still, she was concerned about the condition of her equipment and cameras -- or if she would even find them.
Much to her relief, when she arrived in Aalesund, Louise found her possessions intact. She had them loaded on the ship, and sailed home on a luxury liner. She had been lucky in her timing. Later speculation centers on the sensitivity of her journey. The Germans would have loved to capture her at that point. She was one of the foremost experts on the Arctic and could have helped them in that region. However, they did not detain her and she was able to return to the U. S. The United States entered the war with Germany in 1941. Had she waited, her hopes to regain her equipment would have been shattered, and she would probably not have been allowed to return home. She was simply too valuable: the Germans would have had a great interest in capturing one of the foremost experts on the Arctic.
In summer 1940 Louise received a call she did not expect. Few Americans had explored the U. S. The United States entered the war with Germany in 1941. Had she waited, her hopes to regain her equipment would have been shattered, and she would probably not have been allowed to return home. She was simply too valuable: the Germans would have had a great interest in capturing one of the foremost experts on the Arctic.
In summer 1940 Louise received a call she did not expect. Few Americans had explored the Arctic, with the exception of Louise. Government officials desperately needed her expertise in what might become a war with Germany. She knew far more than anyone else in the United States about Greenland and the far Arctic waters.
Aboard the liner from Norway in 1939, she had met Dr. J. H. Dellinger, head of the radio section of the National Bureau of Standards. As they talked, he recognized a true Arctic expert. She sent Dellinger a letter on July 19, 1939 telling him she was ready to undertake a trip to West Greenland if they needed her expertise. The government accepted her offer in 1940.
This voyage was authorized by the Carnegie Institute and radio section of the Federal Bureau of Standards. The "official" purpose of the expedition was to obtain data that would affect long-distance radio transmission in the Arctic, particularly of ionospheric conditions. HOWEVER, this was only a front: Louise was actually part of a secret mission.
As with previous expeditions, Louise was to obtain a ship, hire a crew, and buy food and supplies. The Bureau of Standards would arrange for scientists and their equipment. Louise's first order of business was to charter a ship. In the past she had hired Norwegian vessels, but now it must be an American one. After investigating several ships, she chartered the schooner Effie M. Morrissey. The ship's captain, the legendary Captain Robert "Bob" Abram Bartlett was called by reporters "a real salt." At sixty-six years old, he had been in the expedition business for years, including several trips to the Arctic.
At 5:40 p.m. on June 1, 1941, the Morrissey started its journey from a pier near the War Department in Washington, D. C. It would not return until November 3, 1941 -- a five month expedition. The schooner sailed up the west coast of Greenland, then returned by the coast of Baffin Island and Labrador. As usually occurred on these far north journeys, weather became a major factor. They were battered by a one hundred-mile-per-hour gale and sixty-foot waves. Anything not battened down was thrown in the storm, including members of the party, whether on deck or beneath. No one panicked, least of all Louise.
When the expedition returned, it was rated as a total success. The Technical News Bulletin of the Bureau of Standards reported:
"The Government is indebted to Miss Boyd for her effective leadership of the expedition and is gratified with the results achieved."
Louise had gathered geographical information to aid the government in the war effort. Yet. according to all reports, no one on the expedition had anything to report. It appeared to just be another one of Louise A. Boyd's usual scientific expeditions.
One military officer wrote to Louise,
"Your work with us has been invaluable[...] " This remark and others made Louise proud of her knowledge which helped made a successful trip. "I knew every inch and since the maps and photographs belonging to Denmark were in German hands, my memory and my own surveys were the only guides the Allies had." (." (1941, New York Sun: June 13)
After her return, she continued to serve the U. S. government -- for the fee of one dollar a year. Many experts volunteered their services during World War II for this amount. Louise was the first woman to join the government staff in this capacity.
Louise served as special consultant to the Military Intelligence Division from March 1942 to July 1943. Her consulting was related to the Greenland-Spitsbergen areas, the lands she had surveyed and photographed in detail -- and certainly areas important to the German government. She even bought stationery printed with her title: "Expert Consultant for the U. S. Government.
Her country did not forget her service during a time of need. After World War II ended, she was presented with a Certificate of Appreciation from the Army, "For outstanding patriotic service to the Army as a contributor of geographic knowledge and consultant." Then it was revealed she was employed by the photographic section of the Geographical Branch, Intelligence division during World War II.
Louise's last Arctic adventure involved the North Pole. Her 1958 article in Parade Magazine, "A View from 9,000 feet," explained why she went.
"[…] Although my work had taken me to many lands, since I was a little girl I had dreamed of going to one very special place. . . . " Her goal was to become the first woman to fly over the North Pole. She carried the flag of the Society of Woman Geographers -- and the best wishes of her friends. Hers was the first privately financed flight over the Pole." (Louise Boyd Arner, 1958)
Louise never liked airplane flight, but at sixty-eight years old, it was the only way she could reach her dream. She chartered a specially equipped DC-4 and crew. As they readied the plane for the North Pole flight, Louise thought about when she was a little girl. She had dreamed of going to the North Pole. Now the time had come. On June 16, 1955, they took off from Bodo, Norway and the North Pole. She wrote:
"North, north, north we flew. Soon we left all land behind us. From the cabin window I saw great stretches of ocean flecked with patches of white floating ice. Now the ice became denser, its jagged edges surrounding open pools of sea. And as I saw the ocean change to massive fields ofsolid white, my heart leaped up. I knew we were approaching my goal.
Then -- in a moment of happiness which I shall never forget -- our instruments told me we were there. For directly below us, 9,000 feet down, lay the North Pole!
No cloud in the brilliant blue sky hid our view of this glorious field of shining ice. Suddenly I felt we had an invisible passenger -- the Almighty. In a moment of silence and reverent awe the crew and I gave thanks for this priceless sight. We crossed the Pole, then circled it, flying "around the world" in a matter of minutes. Then we departed. My Arctic dream had come true."
Louise had accomplished almost everything she wanted to do in the Arctic. She would have loved to go on more expeditions. But she knew at her age she could no longer pursue this. Seeing the North Pole was a fitting conclusion at this stage of her exciting life -- ending her Arctic career.
On September 14, 1972, just two days before she turned eighty-five years old, Louise died.
Friends mourned more than the passing of a great woman. They mourned the person who cared so much about them, who enjoyed a good time, who contributed personally and monetarily to the world's knowledge: "She was not a sweet or gentle person" friends were quick to say. ". . . you couldn't overlook her.
No grave or plaque exists in San Rafael to commemorate her life and contributions, but she will never be forgotten in that city. Reverend Hugh Hardin in his eulogy commented, "Miss Boyd decided that being an heiress wasn't enough to fill one's life especially if one had the adventuresome blood of do-and-daring ancestors in one's makeup... She possessed a freedom that too many of us are afraid to exercise."
That is the beauty of Louise Arner Boyd's life. She was an explorer and a socialite, a dreamer who made her dreams come true, the epitome of a person who led a full and meaningful life -- and truly was the heroine of the Arctic.

Bibliography:
Cain, Ella M. ,1961. The Story of Early Mono County, San Francisco: Fearon Publishers, Inc,.
Loose, Warren. 1971The Bodie Bonanza. Jericho, New York: Exposition Press, Inc.
Jones, Mary MacCracken. 1939 . "Ice Woman Receives New Honor." New York Sun, June 12
Moss, Jocelyn. "1987. !"The Call of the Arctic: Travels of Louise Boyd," Marin County Historical Society Magazine, Vol. XIV, No. 2.
Olds, Elizabeth Fagg. 1985. Women of the Four Winds: The Adventures of Four of America's First Women Explorers, Boston: Houghton Mifflin Company
Dorrance, John, "Lady of the Arctic." San Francisco Magazine, December 1984, p. 41ff.
Wick, Marilyn. 1987 "From Bodie to B. Street: The Making of the Boyd Fortune," Marin County Historical Society Magazine, Vol. XIV, Number 2.
.
Wedertz, Frank S. Bodie 1859-1900, 1969. Bishop, California: Chalfant Press, Inc.
Wright, John K. 1938 . "Louise A. Boyd Arctic Expedition on the Steamship Veslekari." New York Times, September 9
Newspaper
San Rafael Independent. 1939. "San Rafael Woman Feted by Fellow Citizens for Outstanding Achievements." January 6
New York Herald. 1928 ."American Woman Searching for Amundsen." , August 9.
New York Sun, 1941. "Woman to Explore Greenland." June 13
Scrapbooks and Diaries by Louise Arner Boyd
(Provided by Marin History Museum) Portugal 1926; Finland 1930; Plants/Flowers Jan Mayen Island Greenland 1931; Amsterdam 1955; Holland 1955; Flight over the North Pole1955; Sweden 1955; 2 Scrapbooks arranged by Louise Arner Boyd
Diaries by Louise Arner Boyd
(Provided by the San Rafael Library) Diary, Motor Trip Buffalo, New York to San Rafael, California 1919;
Diary, Motor Trip, San Francisco to New York City 1929; Entire personal diary 1931; Scotland 1933; Finland and Lapland 1933-34; Poland 1934 (10 diaries);
Diary, Motor Trip, New York City to San Francisco 1935; Ireland 1937; Diary, Motor Trip, New York City to San Rafael, California 1938;
Diary, Motor Trip, New York City to San Rafael 1940; Spain 1949; Europe 1952; Europe and Scandinavia 1960
Books and Articles by Louise Arner Boyd
1935. The Fiord Region of East Greenland, Special Publication, no. 18, American Geographical
Society.
1937. Polish Country sides, Special Publication, no. 20, American Geographical Society
1948. The Coast of Northeast Greenland, Special Publication, no. 30, American Geographical Society
1955. "A View from, 9,000 feet," Parade Magazine
1981. "Marin Woman Who 'Tamed Arctic.' San Rafael Independent, March 9,.
1924 New York World Telegram, May 12,.
note biographique:
Durlynn Anema's newst book, "Taming the Arctic: The 20th Century Renown Arctic Explorer -- Louise Arner Boyd" is now available. This new biography answers many questions posed by the first young adult biography written 13 years ago. Why are Boyd's photographs so important today? How did she become penniless in later years? Was there a romance between she and Bartlett? New sources have been discovered to answer these questions and more. The book is available through Amazon.com or from the National Writers Press, 17011 Lincoln Avenue, #421Parker, CO 80134 www.nationalwriterspress.com
Durlynn loves research and has written 16 books -- textbooks, biographies, self-help -- plus two newspaper columns. She taught communication at the University of the Pacific before embarking on her writing career. She continues to volunteer as a family counselor and travel throughout the world when not writing. Durlynn resides in Lodi, California enjoying her quiet times beside the river as well as swimming, hiking and being with grandchildren.

labrys, études féministes/ estudos feministas
juillet / décembre 2013 -julho / dezembro 2013